The CATCH Program gives people making a sexual assault report, where the name of the suspect is not known by law enforcement, an opportunity to anonymously submit suspect information to help the Department of Defense identify serial offenders.



CATCH a Serial Offender
Program
---
---
Thank you for considering participation in this program!
Research indicates that some offenders perpetrate sex crimes many times before being reported or caught. This is often because they count on victims never telling law enforcement about what happened. The CATCH program provides a way for you to anonymously disclose details about your Restricted Sexual Assault Report of sexual assault that might help stop repeat offenders.
The details you provide about your experience will be compared to reports by others in the CATCH computer system. If your information appears to match with others' reports, a SARC, Victim Advocate, or FAP Provider will notify you privately. You can then decide whether to convert your Restricted Sexual Assault Report to an Unrestricted Report and participate in the investigation of the suspected offender.
Your Participation in the CATCH Program is voluntary. Your Restricted Sexual Assault Report will not be converted without your permission. In addition, you may decline to participate in the process at any point, even after being contacted that there was a match.
If now is not a good time, you can always come back later and enter the information when you feel ready. If you decide to do this some other time, please reach out to your SARC or FAP Provider for a new user name and password for this site. The user name and password you were given expires in 10 calendar days after you received them, or after you use them to log on.
There is no requirement for you to participate in the CATCH program. Any information you provide is voluntary, and you do not need to gather additional information.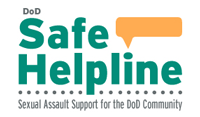 ---
If you need to speak to someone immediately: Contact the DoD Safe Helpline.
If you need to speak to someone immediately, you can reach the DoD Safe Helpline for anonymous and confidential, 24/7 support at (877) 995-5247 or www.safehelpline.org.
Safe Helpline is the DoD's sole sexual assault hotline, and provides specialized services including one-on-one crisis intervention and support, peer-to-peer support, information, resources and self-care exercises, available anytime and anywhere (in the U.S. or overseas).